With prizes totaling more than $250,000 - including an all-inclusive luxury trip to Super Bowl 56 - Bovada's THE place to be for the NFL season.
Every week between now and October 4th, players will be entered to win one of eight weekly prize draws for $5,600 in cash – they just need to make sure to play along with the different challenges each week.
Every time players play a featured challenge, they'll also be entered into the grand prize Super Bowl 56 package!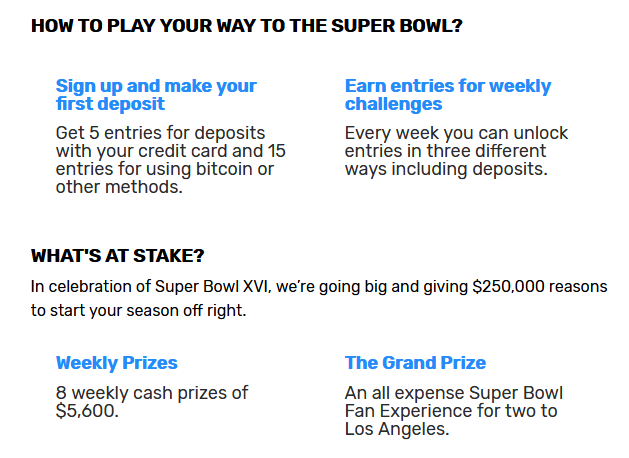 RULES
The contest will run between August 30th,2021 and Oct 4th, 2021 inclusive.
Every week, a raffle draw will be held to determine who will get the cash prizes. Based on the total number of entries, a random drawing will be conducted to choose eight participants. Each prize winner will get $5,600 in cash - which will be credited straight into their Bovada player account.
The grand prize will be randomly select 1 winner based on the total number of entries for the entire contest duration winning an all-inclusive luxury fan package for two to Super Bowl 56.

There will be many ways for participants to gain entry into the tournament;
New players who join and make a deposit will immediately receive entries. Players will receive five entries if they make their first deposit using a credit card and fifteen entries if they make their first deposit with cryptocurrency or any of the other methods.

There will be several methods to earn entries into the competition.
New players joining and making their first deposit will earn entries automatically. Players will earn 5 entries if their first deposit using credit card and 15 entries cryptocurrency or any of the other methods.
Existing players will earn entries based on weekly challenges/tasks/ that will be shown on the landing page and sent to them as well. The number of entries is capped per week per player. The following table breaks down the tasks and point entry valuations
Players will automatically qualify for the respective weekly and monthly draws by completing 1 or all of the challenges for the respective periods.
Winners will be announced every Wednesday of the following week and shown here (link to be added) as well as announced on social media. They will also be contacted directly.
Weekly prizes from this promotion do not carry any wagering requirements and will be deposited directly into the player's account.
The minimum deposit required relevant activities is always $20 unless otherwise stated. This includes deposits, sports betting and or casino wagering.
Should Bovada detect fraud, foul play, any manipulation of the promotion rules or abuse of the promotion, the relevant player and their related accounts will be suspended from the current and any future promotions. Bovada reserves the right to amend, suspend or cancel the promotion at any time. These terms and conditions are in addition to Bovada' s General Terms and Conditions and Reward Terms and Conditions
In order to be eligible to receiving the weekly prizes the winners consent to publishing of their first name and state of reside
Bovada Sportsbook
offers an online betting experience like no other since December 2011!