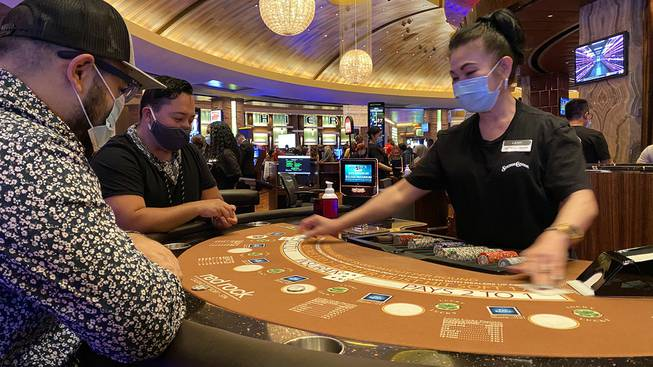 From left, Evan Savar, Nabu Reyes and dealer Leah Prerost are shown at a Red Rock Resort
blackjack table just after the casino opened, Thursday, June 4, 2020. ''
Thursday, June 18, 2020 | 8:19 a.m.
Nevada gaming regulators have ordered all patrons wear face masks at table games where there is no barrier between the players and dealer.
"This requirement applies to table and card game players, spectators, and any other person within 6 feet of any table or card game," the Nevada Gaming Control Board said Wednesday in a notice to licensees.
Casinos, closed in mid-March to help curb the spread of the coronavirus, were allowed to reopen starting June 4 with a number of social distancing requirements. But casino patrons were not previously required to wear masks.
The new guidance comes after the the Southern Nevada Health District on Monday issued a statement saying businesses have a "moral obligation" to protect the community by requiring patrons to wear masks.
At the time, Sandra Douglass Morgan, chairwoman of the Gaming Control Board, said state regulators didn't have plans to require masks for casino patrons, though resorts should "strongly encourage" their use.
The board updated its policy based on guidance from the Centers for Disease Control and Prevention to "mitigate the spread of COVID-19 between people who are in close contact with each other for at least 15 minutes," the notice said.
source
Also...
Use of face masks on Las Vegas Strip spotty, despite health warnings