Slot Overview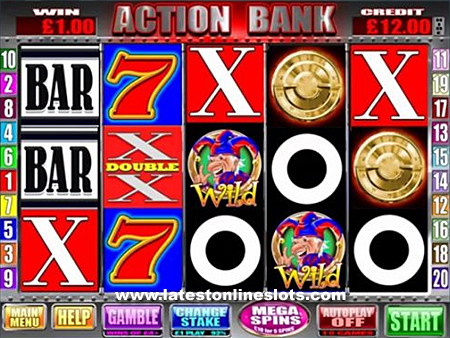 Action Bank is a new video slot that can be found at casinos that use the  software provided by Scientific Games – Barcrest being one of them. The new slot is a 5 reel and 20 payline game that does deliver a whole lot of action. Red Sevens, Bars, Joker Wilds, Scatter Vaults, X's and O's create this dynamic slot. Action Bank has some pretty awesome bonus rounds which add to the dynamics, so let's check them out.
When 5 scattered Vault symbols land in your reels, the Action Bank Free Spins bonus round will trigger. You will have the option to choose one of the five Vaults. You could win anywhere from 5 to 30 free spins. You could also win The Big Bank bonus which is the big feature of Action Bank.
So back to the Free Spins bonus round. You will be able to choose if you want to collect the free spins that you were awarded or gamble for more free spins. If you end up being awarded 25 free spins from the gamble feature, you will be able to trigger the Big Bank bonus. During the free spin games, some symbols will have the word "Double" on them which will pay two times the win. Free Spins can be re-triggered if five additional scatter Vaults appear on your screen.
If you land 5 scattered Vaults and they reveal the Big Bank bonus, you will be presented with 15 Vaults. Behind each Vault is a precious gem. There will be 6 Sapphires, 5 Rubies and 4 Diamonds. The slot will then mix up the gems and then the Vault doors will close. You will then start clicking on one Vault at a time to reveal a gem. The point of the Big Bank bonus is to reveal three of a kind and win a multiplier that are see at the top of the game. If you reveal three Sapphires, you will win a multiplier of 150 times your line bet. If you reveal three Rubies, you will win a multiplier of 125 times your line bet. If you reveal three Diamonds, you will win a massive multiplier of 250 times your line bet. Once you have clicked on three matching stones, the bonus feature will end.
I think action bank is a pretty cool slot game. We all like free spins, and some of us like "Pick 'Em" games. I say "some of us" because there can be much disappointment when you do not pick the right ones, but I assure you, with the multipliers that are guaranteed to be won, this "Pick 'Em" game is not a disappointment whatsoever.
Action Bank can be found at Slots Magic. Get into the Action with Action Bank today. Like I said above, you will not be disappointed.