Slot Overview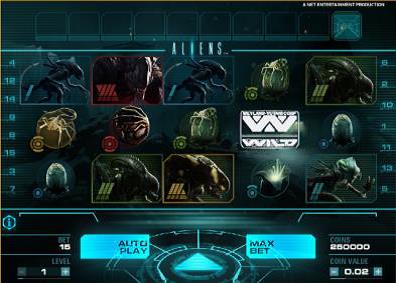 "Aliens have attacked the online gambling world!" Wouldn't that be a out of this world  headline to read in some newspaper? But there is a silver lining in that hypothetical headline and that being Net Entertainment has released their brand new video slot Aliens!
Aliens is a 5-reel in 15 payline slot machine that has incorporated wild symbols, a re-spin bonus game, and multipliers within it. The new online slot will have players combat aliens to keep them from reaching the Queen hive.
There are 3 different levels within the new slot game. First in level 1, players will fill the Aliens activity meter with the highest multipliers. Players will then proceed to level 2. Level 2 is called The Encounter. Once you've completed Level 2 you will continue on to level 3 The Hive.
With in level 1, there is an Aliens Activity meter. Players will work their way up by trying to collect the highest amount of multipliers bye winning additional wins on the same symbol to further increase the multiplayer. That multiplayer will then be applied to the next spin.
When the level 1 or the activity meter reaches step 9, The Encounter or level 2 will trigger. Level 2, The Encounter, is only activated when the activity meter level is complete. With in level 2, players will fight through the caverns to reach the Queen hive. Ammo clips, clip counters and an Aliens Activity meter will appear with steps that need to be completed in order to reach level 3.
Level 3 is The Hive. The Hive is only activated when the Aliens Activity meter is completed in level 2. And this is where players will need to survive by shooting the aliens. The goal in level 3 is to destroy the hive before your ammunition runs out.
There is so much action in the latest online slot that can only be experienced by playing the game itself. That is the only way justice will be done when trying to describe this awesome slot game. There are many more features within each level that players will unlock for themselves as they combat the aliens and stop them from multiplying and taking over the world.
Fight the Aliens at Net Entertainment casinos and save the Earth from imminent peril! This is a powerful and highly graphic 3-D video slot that must not be missed!